Enhancing Livelihoods
Fostering social inclusion through setting up robust social, economic and livelihoods support systems for persons with mental health issues and their caregivers
Care and recovery are intersectoral
Societal Complicity
With awareness about mental health concerns growing, it becomes essential to protect the rights of people with mental illness, and promote better livelihood options for them. They may have been rendered emotionally vulnerable due to societal or personal crises. In the absence of timely counseling and support, certain symptoms might appear, or become exacerbated – such as insomnia, lack of appetite, excessive appetite, hallucinations, talking to oneself, becoming dysfunctional (not all of which are necessarily related to mental illness).
People with mental illness tend to face additional deteriorations and multiple harms due to the inherently inequitable nature of human society. They might lose everything they have earned prior to the onset of illness – work, family, children, relationships, home, property, respect. Physically and mentally, they might begin to internalize a sense of inability to achieve life goals. We see families taking responsibility and making efforts for a person's recovery when it comes to most health issues, yet the very same families often abandon people with mental illness. Society further discredits the mentally ill, labeling them "mad". The associated stigma pushes them further to the fringes, and excludes them from several areas of daily living. It may be said that people with mental illness endure lives filled with many losses and humiliations.
Mental illness is no more untreatable than any other illness, and needs to be perceived in the same manner. However, as things stand, people with mental illness are subjected to persistent social exclusion and isolation. One way of addressing this injustice is to expand and improve livelihood opportunities for people with mental illness. Mental illness does not arise or exist in a vacuum divorced from the individual's environment. Family, society, and prevailing structural inequities, all play their own roles. Society as a whole, then, bears responsibility for helping people with mental illness access necessary care and find livelihoods.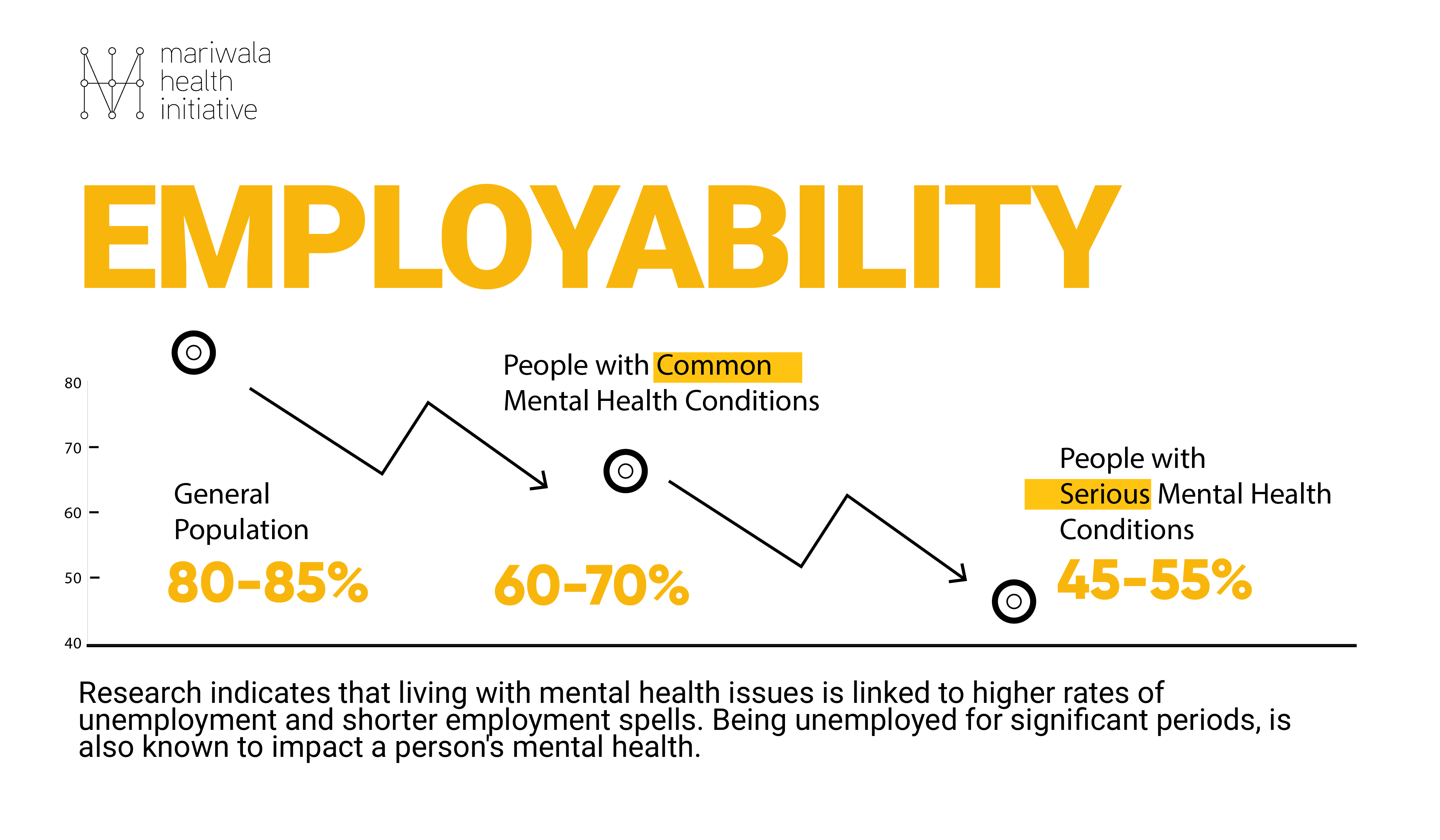 Care extends to Livelihood opportunities
Persons with mental illness must at the outset be acknowledged as part of their families and communities. Facilitating access to treatment is a necessary next step. However, care does not end merely with offering biomedical solutions, but calls for supportive measures that can help individuals concerned to progress towards their aspirations and goals in life. Opportunities for transformation should be doggedly offered. An effective way of doing this would be to reconnect persons with mental illness to their rightful access to resources, thereby renewing their sense of well-being.
Although most government hospitals offer mental health treatment services, these alone are inadequate for improving quality of life. Counseling facilities need to be allied with skill development initiatives – along with housing and employment opportunities that would allow people with mental illness to participate more fully in their communities.
Every person should be offered the chance to resume the education or work that they may have had to discontinue during a period of serious illness. Both public and private organizations must provide employment opportunities for people with mental illness. Reservations are needed in government jobs; it may also be worthwhile to make concerted efforts for a specific quota in private institutions. Regular employment and an assured income are known to help instill confidence. Besides, when they are no longer perceived as "burdensome" dependents, people with mental illness would be able to live with greater respect from both family and society.
Building different types of care into Mental Health systems
Access to housing needs considerable work. Legal action against those who discriminate against the mentally ill also must be pursued resolutely. Those without designated carers or places to stay – people who are homeless, or living in shelters – need to be acknowledged as a critical subgroup requiring greater attention. Social entitlements such as voter IDs, ration cards, banking facilities, and easy access to pensions should be made available. Carers, too, need to be offered jobs in the system if the person they are caring for is indisposed because of a serious mental illness. If carers are employed at minimum wage or unemployed, this can result in extreme impoverishment that may affect recovery. Hence mental health systems need to develop work options for such carers, to allow a better standard of living and quality of life. Many people with mental illness belong to social strata that are below the poverty line, and must be offered all rightful social care options and subsidies. Facilitating employment alongside care for people with mental illness can play a major role in their recovery. Supporting people with mental illness to return to work can help eradicate the pejorative tag of "mad", thereby paving a way for them to return to ordinary, everyday life.
"Mental illness does not arise or exist in a vacuum divorced from the individual's environment."