About us
MHI provides grants and strategic support to organizations and collectives working within communities to provide greater access to mental health services for all.
Theory of Change
By fostering an environment of accessible, affirmative, rights-based and user-centric mental healthcare, MHI seeks to visibilise narratives in mental health that centres structural determinants and foreground voices of historically marginalised communities.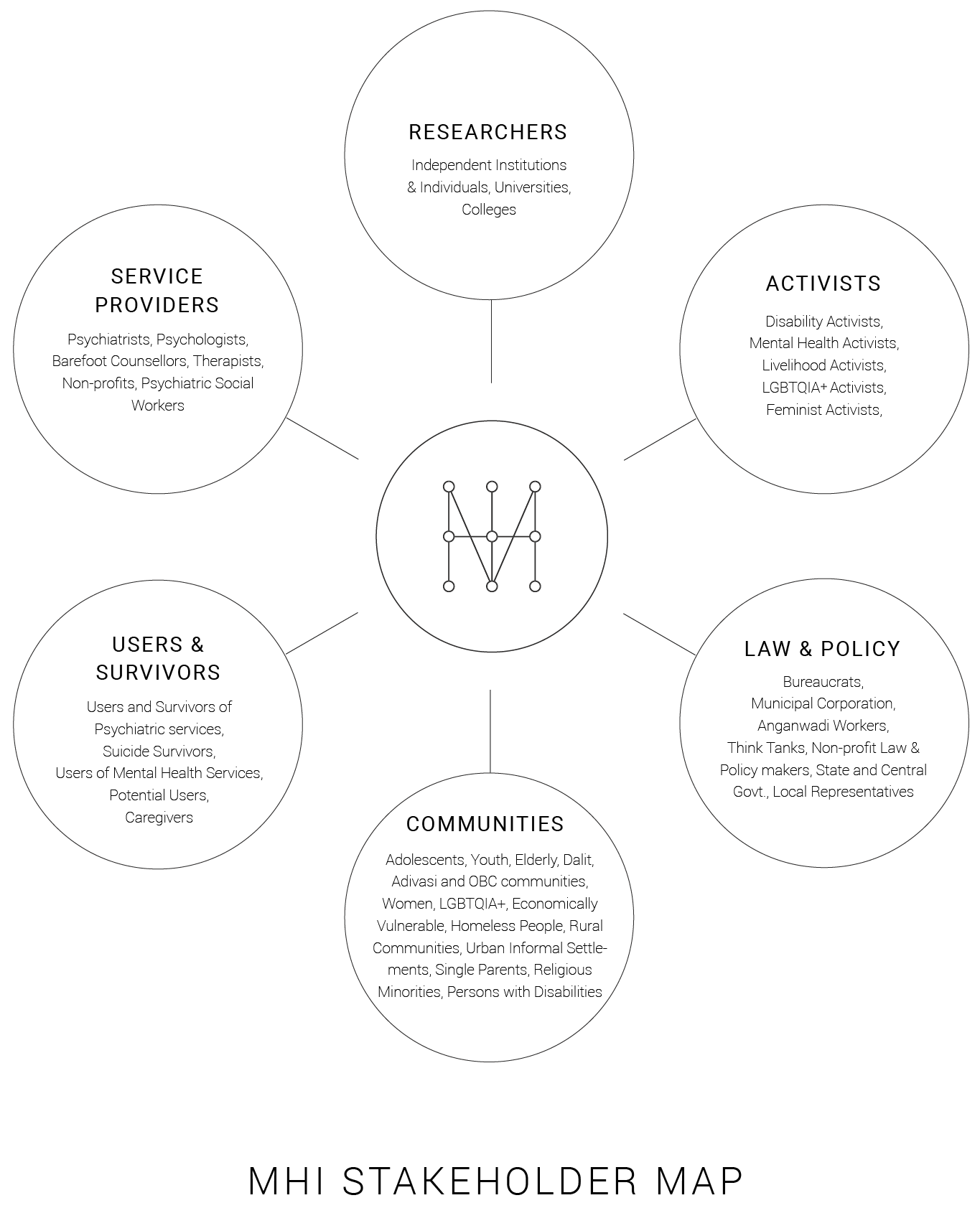 This is an infographic showing all the stakeholders of Mariwala Health Initiative. MHI is a circle in the center, surrounded by six circles representing six categories of stakeholders. The first one is service providers. This includes psychiatrists, psychologists, barefoot counselors, therapists, non-profits and psychiatric social workers. The second category of stakeholders is researchers including independent institutions, individuals, universities and colleges. The third category is named activists - Disability activists, mental health activists, livelihood activists, LGBTQIA+ activists and feminist activists come under this category. The fourth category of stakeholders is law and policy. This includes bureaucrats, Municipal Corporation, anganwadi workers, think tanks, non-profit law and policy makers, state and central government and local representatives. The fifth category of stakeholders is different communities that are vulnerable or marginalized. This consists of adolescents, youth, the elderly, Dalit, Adivasi and OBC communities, women, LGBTQIA+, the economically vulnerable, homeless people, rural communities, urban informal settlements, single parents, religious minorities and persons with disabilities. The sixth category of stakeholders includes users and survivors of psychiatric services, suicide survivors, current and potential users of mental health services and caregivers.
MHI partners with projects that together constitute a multi-pronged approach, through intervention programs as well as advocacy in the areas of law and policy.
We align with a rights-based, psychosocial approach that considers mental health concerns in the context of disability rights. We expand on the narrow medical understandings of mental health and illness and looks at these through a systemic lens. We understand oppressions based on caste, gender, religion, region, ability, and sexuality based oppression as major contributors to mental health distress. We encourage community-based interventions, and actively promote the deinstitutionalization of mental health services.
Our Goals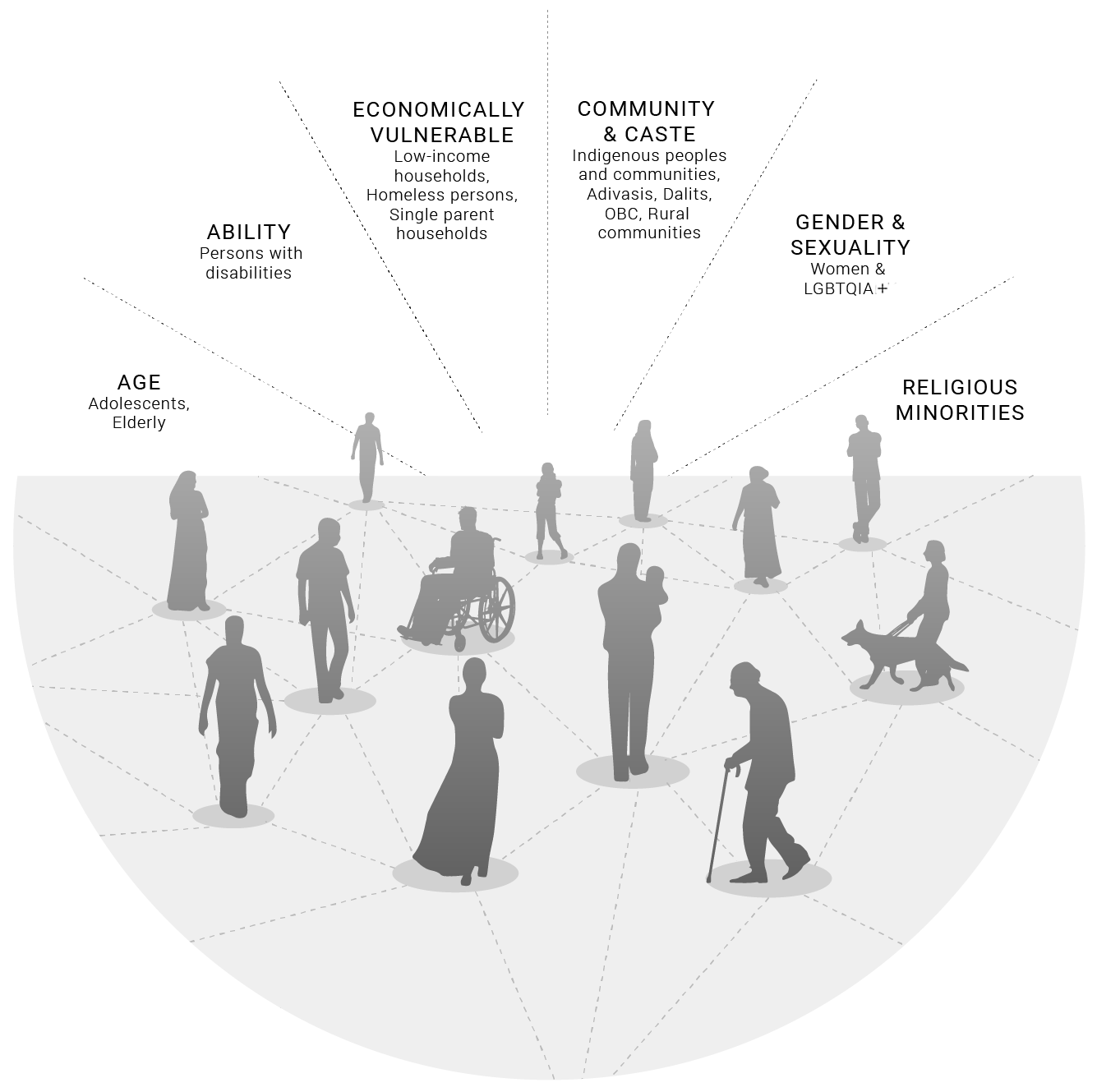 This graphic shows a range of marginalized communities MHI aims to reach. There are many axes of marginalization, including Age, that is, adolescents and elderly. Persons with disabilities are foregrounded in our work. We hope to reach out to economically vulnerable people including households with low income, homeless persons and single parent households. In India, it is very important to actively reach out to marginalized castes and communities like Adivasi, Dalit, OBC and Rural communities and indigenous peoples. We also center work on gender by working with women and LGBTQIAHK+. Religious minorities are also communities that we would like to reach out to.
Our goals include reaching out to marginalized populations and communities, in order to alleviate their mental health concerns, as well as capacity building for individuals, organizations, communities, and institutions through training, building networks, and knowledge sharing.
Mission
To collaborate with a range of stakeholders in the area of mental health in India, in order to create wider awareness of essential concerns.
To support and enable quality services as well as ongoing research, and encourage innovative, culturally sensitive, and inclusive community-based interventions.
To work towards capacity building for individuals, organizations, communities and institutions through training, network building and knowledge sharing, and stimulate law and policy reforms.
Values
The following ethics and values guides MHI's work:
Accountability: Our framework of ethics takes into account the varying marginalizations of communities we work with. The foundation of our work is accountability. We are accountable to the responsibilities we take up and the communities we serve.
Affirmation: We continuously seek to affirm our commitment towards foregrounding the voices of the historically oppressed.
Collaboration: We work with all internal and external stakeholders on a non-hierarchical, equal footing leveraging the unique strengths of each stakeholder involved.
Innovation: We will uphold and support true innovation that is outside the scope of markets, traditional philanthropy and public services.
Integrity: We actively seek to uphold a culture characterized by truthfulness, trust and mutual support.
Reflexivity: We believe in being dynamic and reflexive to current socio-political affairs and building our work in a way that benefits the communities we seek to serve and contribute to rights for all.
Respect: We believe in nurturing an environment of respect to every individual and organization.
Social Justice: MHI's work in grantmaking and capacity building will uphold the core principles of social justice, viz, participation, human rights, equity and access.
Our Journey so far
Talking to stakeholders
- mental health professionals, users, service providers -- to glean insights about mental health, and existing need gaps.
iCall Strategic Partnership
Strategic partnership with iCall, an existing service based in Tata Institute of Social Sciences (TISS), Mumbai.
Partnership with Bapu Trust, Pune
Bapu Trust works with stakeholders in the development sector to encourage the inclusion of persons with mental health issues and psychosocial disabilities.
Partnership with Centre for Mental Health Law and Policy, Pune
CMHLP builds awareness of and advocates rights-based approach to mental health policy and legislation.
Partnership with Anjali, Kolkata
an organization working with persons who suffer from chronic mental illnesses, living in state institutions for care and treatment.
Sponsored Bapu Trust's arts-based therapy course for practitioners
a certificate course in Arts Based Therapy (ABT) with a focus on psychosocial health, mental health and disabilities.
MHI website launched
The site was built centering accessibility. Web accessibility refers to the inclusive practice of removing barriers that prevent interaction with websites, by people with disabilities.
Sponsored trainings conducted by CMHLP
on Mental Health Care Act 2017 for a range of stakeholders.
Partnership with Anubhuti Trust
to support 'Community Development Committees' comprising local youth, to lead counseling, trainings, awareness drives, as well as advocacy with local and municipal government on development concerns of their area.
Project to provide Family Court Counseling Centers
to understand marital concerns and stressors experienced by litigants of family courts in Maharashtra and to develop counseling and other interventions for the 11 Family Courts across the state.
Partnership with Bhor Foundation
to sponsor their 'Merchants of Madness Foundation'.
LAUNCHED A 6 DAY QUEER-AFFIRMATIVE COUNSELLING PRACTICE COURSE
for mental health practitioners.
Partnerships
with Basic Needs India, SNEHA Mumbai, Schizophernia Awareness Association, Ya_all, Burans Project, DLR Prerna, RCJJ, Mann and Rahi
Launched peer support practice
for LGBTQI+ individuals.
Study on Mental Health of Entrepreneurs
in partnership with Ascent Foundation.
Received the Hurun Award
for outstanding work in philanthropy in Mental Health.
Initiated Community of Practice
led by Mental Health frontline workers in partnership with the University of Edinburgh.
MoU with Bihar State Government
to build capacity and implement the Mental Healthcare Act 2017.
Partnerships
with Ishwar Sankalpa, Kashmir Lifeline, DISHA and WAYVE Foundation.
COVID relief
in partnership with 23 community-based organizations and collectives across 18 states.
Launched Gender, Sexual and Mental Health from the Margins
- an introductory workshop-style session for college students.
Launched Youth Care Network
in partnership with The YP Foundation to train youth leaders, on mental health. These leaders would in turn, be able to provide peer counselling services and referrals in their community and sphere of work.
Partnered with
Moitrisanjog, Nirangal
Partnered with
Jeeva Trust
Launched the Alliance for Suicide Prevention
The Alliance will bring together funders, organizations, activists, researchers and policymakers to work cohesively on preventing suicide in India at the individual and community levels.
Partnered with
Project Ohana
Roundtable Discussion on Approaches to Suicide Prevention
Partnered with the Policymakers' Forum for Mental Health, Sneha and the Lancet Psychiatry to discuss approaches to suicide prevention with various Members of Parliament.
Partnered with
The Listening Station
Launched QACP Resource Book
The Queer Affirmative Counselling Practice (QACP) Resource Book is a pathbreaking text that is truly the first of its kind to be published as a textbook for Psy disciplines. The book provides a balance of information, perspective, skill and an eclectic set of pedagogic tools for Mental health professionals, social workers and stakeholders within mental health to engage with the content that is drawn from the lived experiences of queer-trans realities.
Partnered with
BDS Samabhoobana
Partnered with
Project Sahyog
Partnered with
Project SPEAK
Partnered with
Project Mann Marziyan
Partnered with
SNEHA Foundation Trust
Partnered with
LAW Foundation, Bihar
Partnered with
Shahjani Shiksha Kendra
Our Impact
127
publications & research activities complete
Referrals
were used to maximize support
17,000+
times
24,000+
people
trained under
various
programs
Our Team
Aashima Sodhi
Aashima is an Associate at Mariwala Health Initiative. She pursued her Masters in Psychology from Panjab University. At MHI, Aashima is primarily involved with training programs on gender, sexuality and mental health. Her role includes managing the Queer Affirmative Counselling Practice (QACP) and Gender, Sexuality and Mental Health from the Margins (GSMHM) programs, conducting research, evaluating and setting up collaborations, managing social media for these themes and the logistics.
Abhilash Durugkar
Abhilash is a Grants Associate at the Mariwala Health Initiative. He has completed his Master's in Social Work from the Tata Institute of Social Sciences, Mumbai. Abhilash has previously worked on issues of homeless persons with mental illness, labour rights and the implementation of the Mental Healthcare Act 2017. He is interested in the intersection of gender, caste, homelessness and mental health. He has freelance experience as a content writer and has contributed to publications such as Feminism in India, Youth ki Awaaz and Dainik Bhaskar.
Anam Mittra
Anam Mittra is our Lead, New Initiatives. Her work experience of a decade spans working on issues of gender, sexuality, education and the social and solidarity economy. She has worked on research, project implementation, communications and membership development verticals in the Indian and international non-profit space. Anam has completed her Masters in Development Studies from TISS, Mumbai and her second Masters in Development Communication from Jamia Millia Islamia, New Delhi.
Fizza
Fizza is the Social Media and Content Associate at MHI. She holds a Bachelor's degree in Psychology, Literature and Political Science. She has worked on content and social strategy for UN Women India's Generation Equality and the Multi-Partner Trust Fund (UN Women, UNICEF, WHO & UNHCR) — with focus on gender-based violence, sexual and reproductive health, economic empowerment and climate justice. She has also worked as a project consultant on the Global Menstrual Equity Accelerator with DDB For Good.
Harsh Mariwala
Mr. Mariwala, who leads Marico Limited as its Chairman, founded Mariwala Health Initiative (MHI) in 2015. He is also Chairman and Managing Director of Kaya Limited. Over the past three decades, he has transformed a traditional, commodities-driven business into a leading consumer products and services company in the Beauty and Wellness area. Under his leadership, Marico has received numerous awards, and over 100 external recognition. Mr Mariwala was President of Federation of Indian Chambers of Commerce and Industry (FICCI) in 2011.
Maimoona Sultan
Maimoona is a Programs Associate at MHI. She holds a master's degree as well as a postgraduate diploma in Clinical Psychology from Patna University. Maimoona has past experience working with homeless persons with mental health issues, in addition, she has worked as a trainee counsellor and psychotherapist. She is interested in the intersection of psychosocial support, counselling and mental healthcare.
Mangala Honawar
Mangala Honawar, PhD is Lead, Grants at MHI. Her experience spanning 15 years includes diverse roles as a social worker, project coordinator, project head, teaching associate and fieldwork supervisor. She led the access to justice portfolio at one of the largest philanthropies in India and her areas of expertise include project management and implementation, grant management, liaison with government departments across themes such as violence against women and children, homelessness, community policing, prison reforms, victim restoration and de-notified tribes. She has completed her PhD on recidivism among women offenders from Tata Institute of Social Sciences.
Priti Sridhar
Priti Sridhar is CEO at MHI. She focuses on building the Grants portfolio which is primarily community led, spearheads the advocacy initiatives where she leads the work on Suicide Prevention, Workplace Mental Health, working with government and collaborating with Funders to invest in mental health. Priti has been able to conceptualise and implement programs and training to build the mental health ecosystem in India. She has 25 years of work experience and has worked with Not-for-profit organisations working on the issue of Mental health, Child Rights and Homelessness as well with For-Profit organisations in Banking, Financial Services and Ratings. Priti has extensive knowledge in Finance, Strategy and HR and aims to combine these experiences with her interests in rights-based mental health to spotlight and support organisations and leaders providing community-based interventions.
Raj Mariwala
Raj Mariwala is Director, MHI. Apart from being a practicing canine and feline behaviourist, Raj is also a board member of National Centre for Promotion of Employment for Disabled People.
Saisha M.
Saisha is a Grants Manager at MHI. She is also a fellow at the Orygen Global Youth Mental Health Advocacy Fellowship (2021). She holds a Bachelor's degree in Psychology from Bard College, for which she wrote a thesis evaluating community-based trauma interventions as accessible forms of mental health care. Apart from community-based mental health work, Saisha's interests include media analysis on issues of identity.
Shruthi M
Shruthi M (she/ they) is Associate, New Initiatives at MHI. Their experience spans working in the eldercare and precious metals refining sectors. Shruthi also has an interest in poetry, music and intersectional feminism. They have a Graduate Certificate in Public Policy from The Takshashila Institution and an MBA in Marketing and Finance.
Shruti Chakravarty
Shruti Chakravarty, PhD, (cis woman; pronouns: she, her) has 20 years of experience in the non-profit sector, as a mental health practitioner, researcher, trainer, and social worker. Her areas of engagement have been mental health, gender and sexuality, from a rights-based perspective. She has an independent therapeutic practice based in Mumbai, has in-depth experience working with LGBTQIA+ clients in the therapeutic space, and has co-authored Queer Affirmative Counselling Practice (QACP): A Resource Book for Mental Health Practitioners in India. She has completed her PhD on the subject of queer intimacies from Tata Institute of Social Sciences. Shruti is Chief Advisor at Mariwala Health Initiative (MHI) and also faculty at the Queer Affirmative Counselling Practice course run by MHI.
Vandana
Vandana (she/ they) is a Grants Associate at MHI. She has completed her Master's in Social Work in Mental Health from BALM-TISS, Chennai. She has worked in content localization and translation in parallel to her education for the past 4 years. She has a keen interest in the area of social justice.
Vaishali Sonavane
Dr. Vaishali is a Grants Manager at MHI. She holds a Phd in Women's Studies from the Tata Institute of Social Sciences in Hyderabad. Dr. Vaishali has 15 years of experience with NGOs, Government Institutions, International and national networks and rights' based movements across themes such as women's health, dalit rights, manual scavenging and unorganised workers' rights. Vaishali has training expertise in topics like gender and health. She is also a certified mental health professional.
Advisory Committee
Amalina Kohli Dave
Amalina Kohli Dave is a mental health activist, user-survivor, who has organised queer mental health discussion groups and co-hosted a series of workshops about mental health in theatre . She has also started support groups for people with chronic illness, including chronic pain and autoimmune illness. Her previous research includes studies on race and mental health access as well as queer persons experiences with cishet mental health professionals. While Amalina's day job is in rare book restoration, she has studied Gender and is inspired by a feminist disability rights approach and crip theory.
Dr. Kiran Valake
Kiran is a young doctor from B J Medical College Pune and his aiming to do his MD. In the past, he has actively worked with an organization working towards making caste affirmative mental health services available for people from Bahujan communities. His interests lie in making institutes of higher learning safe spaces for caste marginalized students. In the near future, he hopes to train mental health professionals on protocols for working with clients from marginalized castes.
Poonam Pardesi
Poonam Pardesi is blind since birth, and has a total of 16 years of work experience in the social sector. She is a trained social worker from TISS Mumbai, and currently works as a Programme Officer with Aide et Action International, a Switzerland based Funder as part of the Programme Development and Support Unit. Poonam believes that disability issues must be placed as human rights issues, and as part of humanity and human diversity.
Pramada Menon
Pramada Menon is a queer feminist activist who has been actively involved in the social justice and women's human rights sector in India and internationally for more than two decades. She is the Co-founder of CREA and worked there as Director Programs from 2000 till 2008. Prior to that she was with the Dastkar, an organization working for the promotion of crafts and crafts people, as Executive Director. Since 2008, she has been working as an independent consultant with a variety of organizations on issues of women's human rights, gender and sexuality, organizational change management and professional coaching.
Ruby Hembrom
Ruby Hembrom is an Adivasi cultural documentarian and practitioner based in Kolkata. She is the founder of adivaani (first voices), an archiving and publishing outfit of and by Adivasis (the indigenous peoples of India) started in July 2012 as a non-profit organization. She is the writer of adivaani's Santal Creation Stories for children, a recast of the Santal Creation myths in English and the prize-winning Disaibon Hul, on the Santal Rebellion of 1855–57. Her documentation initiative grew out of a need to claim Adivasi stake in historical and contemporary social, cultural, and literary spaces and as peoples.