About us
MHI provides grants and strategic support to organizations and collectives working within communities to provide greater access to mental health services for all.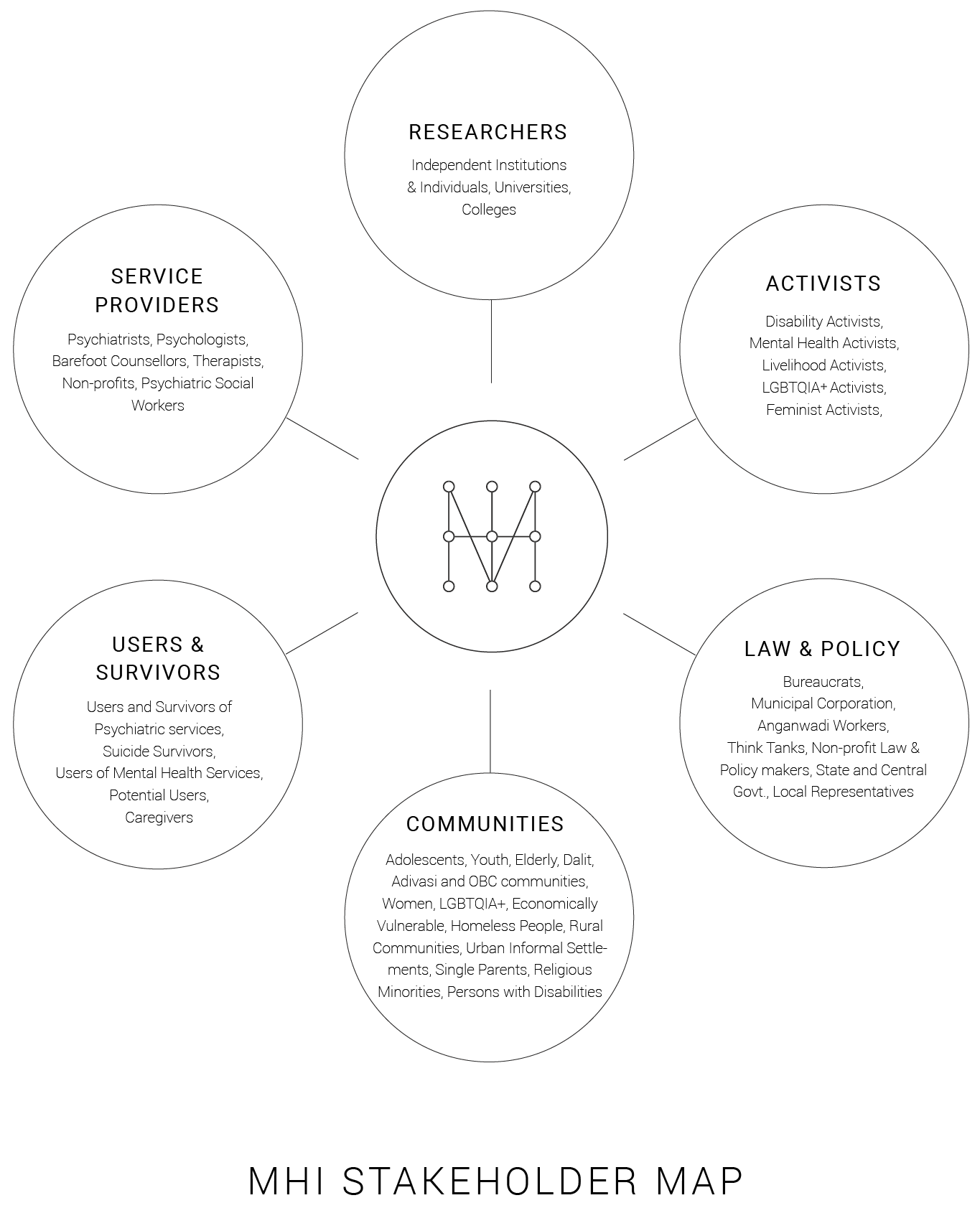 This is an infographic showing all the stakeholders of Mariwala Health Initiative. MHI is a circle in the center, surrounded by six circles representing six categories of stakeholders. The first one is service providers. This includes psychiatrists, psychologists, barefoot counselors, therapists, non-profits and psychiatric social workers. The second category of stakeholders is researchers including independent institutions, individuals, universities and colleges. The third category is named activists - Disability activists, mental health activists, livelihood activists, LGBTQIA+ activists and feminist activists come under this category. The fourth category of stakeholders is law and policy. This includes bureaucrats, Municipal Corporation, anganwadi workers, think tanks, non-profit law and policy makers, state and central government and local representatives. The fifth category of stakeholders is different communities that are vulnerable or marginalized. This consists of adolescents, youth, the elderly, Dalit, Adivasi and OBC communities, women, LGBTQIA+, the economically vulnerable, homeless people, rural communities, urban informal settlements, single parents, religious minorities and persons with disabilities. The sixth category of stakeholders includes users and survivors of psychiatric services, suicide survivors, current and potential users of mental health services and caregivers.
MHI partners with projects that together constitute a multi-pronged approach, through intervention programs as well as advocacy in the areas of law and policy.
We align with a rights-based, psychosocial approach that considers mental health concerns in the context of disability rights. We expand on the narrow medical understandings of mental health and illness and looks at these through a systemic lens. We understand oppressions based on caste, gender, religion, region, ability, and sexuality based oppression as major contributors to mental health distress. We encourage community-based interventions, and actively promote the deinstitutionalization of mental health services.
Our Goals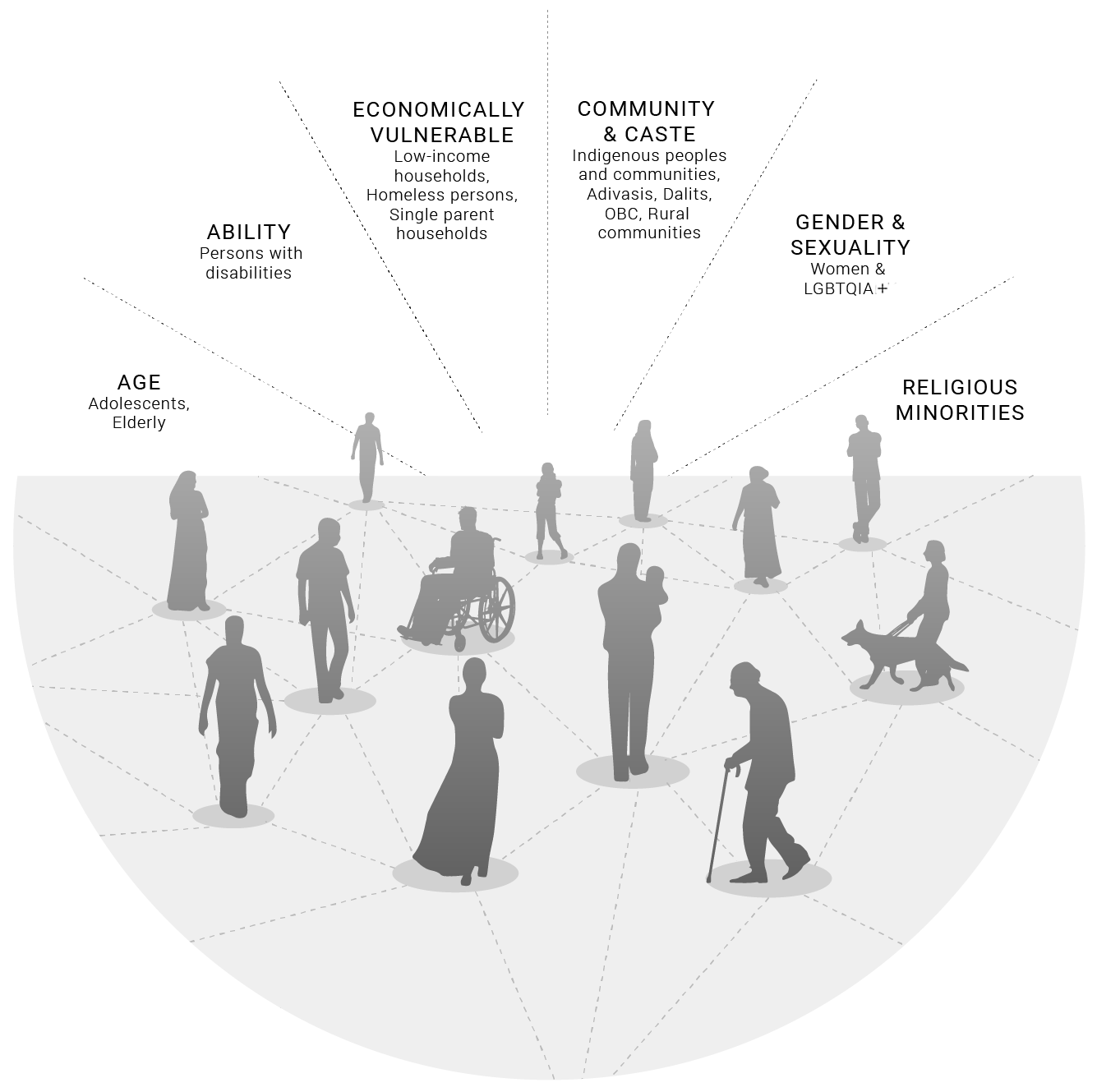 This graphic shows a range of marginalized communities MHI aims to reach. There are many axes of marginalization, including Age, that is, adolescents and elderly. Persons with disabilities are foregrounded in our work. We hope to reach out to economically vulnerable people including households with low income, homeless persons and single parent households. In India, it is very important to actively reach out to marginalized castes and communities like Adivasi, Dalit, OBC and Rural communities and indigenous peoples. We also center work on gender by working with women and LGBTQIAHK+. Religious minorities are also communities that we would like to reach out to.
Our goals include reaching out to marginalized populations and communities, in order to alleviate their mental health concerns, as well as capacity building for individuals, organizations, communities, and institutions through training, building networks, and knowledge sharing.
Mission
To collaborate with a range of stakeholders in the area of mental health in India, in order to create wider awareness of essential concerns.
To support and enable quality services as well as ongoing research, and encourage innovative, culturally sensitive, and inclusive community-based interventions.
To work towards capacity building for individuals, organizations, communities and institutions through training, network building and knowledge sharing, and stimulate law and policy reforms.
Our Journey so far
Talking to stakeholders
- mental health professionals, users, service providers -- to glean insights about mental health, and existing need gaps.
iCall Strategic Partnership
Strategic partnership with iCall, an existing service based in Tata Institute of Social Sciences (TISS), Mumbai, that offers free telephone and email-based counseling services, countrywide, to individuals in emotional and psychological distress.
Partnership with Bapu Trust, Pune
Bapu Trust works with stakeholders in the development sector to encourage the inclusion of persons with mental health issues and psychosocial disabilities.
Partnership with Centre for Mental Health Law and Policy, Pune
CMHLP builds awareness of and advocates rights-based approach to mental health policy and legislation.
Partnership with Anjali, Kolkata
an organization working with persons who suffer from chronic mental illnesses, living in state institutions for care and treatment.
Sponsored Bapu Trust's arts-based therapy course for practitioners
a certificate course in Arts Based Therapy (ABT) with a focus on psychosocial health, mental health and disabilities.
MHI website launched
The site was built centering accessibility. Web accessibility refers to the inclusive practice of removing barriers that prevent interaction with websites, by people with disabilities.
Sponsored trainings conducted by CMHLP
on Mental Health Care Act 2017 for a range of stakeholders.
Partnership with Anubhuti Trust
to support 'Community Development Committees' comprising local youth, to lead counseling, trainings, awareness drives, as well as advocacy with local and municipal government on development concerns of their area. Their mandate includes the provision of inclusive, accessible and non-discriminatory mental health services within the community.
Project to provide Family Court Counseling Centers
to understand marital concerns and stressors experienced by litigants of family courts in Maharashtra and to develop counseling and other interventions for the 11 Family Courts across the state.
Our Impact
80+
publications & research activities complete
Referrals
were used to maximize support
900+
times
12000+
people
trained under
various
programs
Our Team
Anam Mittra
Anam Mittra is our Manager for New Initiatives. Her experience spans working on issues of gender, sexuality, education and the social and solidarity economy. She has worked on research, project implementation, communications and membership development verticals. Anam has completed her Masters in Development Studies from TISS, Mumbai and her second Masters in Development Communication from Jamia Millia Islamia, New Delhi.
Ara Johannes
Ara Johannes is our Communications Manager. She holds a Masters Degree in Health and Non-Profit Communications from Johns Hopkins University and a Bachelors Degree in Anthropology from the University of Kansas. Ara has over a decade of work experience in communications for development organizations — across sectors including maternal & child health, women's rights and strategic philanthropy, among others. She is a member of the Maharashtra CSR Council of the Women's Indian Chamber of Commerce and Industry (WICCI). Ara is passionate about using communications to illustrate stories of transformation, give voice to those on the margins and rally people to a common purpose.
Bhawesh Jha
Bhawesh Jha is the Manager at MHI. He is a Public Health professional with interests in health services delivery, health systems strengthening and law. Previously, he worked with NHSRC (a technical support unit under National Health Mission) in Jharkhand. He has also managed a large-scale research project on Tuberculosis and Nutrition funded by ICMR. He holds a Master's Degree in Health Administration from School of Health Systems Studies, TISS.

Harsh Mariwala
Mr. Mariwala, who leads Marico Limited as its Chairman, founded Mariwala Health Initiative (MHI) in 2015. He is also Chairman and Managing Director of Kaya Limited. Over the past three decades, he has transformed a traditional, commodities-driven business into a leading consumer products and services company in the Beauty and Wellness area. Under his leadership, Marico has received numerous awards, and over 100 external recognition. Mr Mariwala was President of Federation of Indian Chambers of Commerce and Industry (FICCI) in 2011.
Priti Sridhar
Priti Sridhar is Chief Development Officer at MHI. She has been working with grassroots NGOs that use a rights-based approach to social issues. She is passionate about women's rights, mental health, and child rights. Prior to MHI, she has 18 years of corporate experience in Finance, Corporate Credit & HR. Priti is an alumnus of TISS and XLRI and has been training in Transactional Analysis for last 5 years.
Raj Mariwala
Raj Mariwala is our Director, with an educational background in Business Economics and International Relations. Previous work experience includes livelihood-related work at Mercy Corps International. Currently, Raj serves on the Advisory Board of BluePrint Group, a global joint advocacy, communications, and learning coalition on mental health as well as on the Advisory Board for the Lancet Commission on Stigma and Discrimination. In line with other interests, Raj is also a board member of Parcham, a nonprofit that serves adolescent girls through sports.
Saisha M.
Saisha is the Grants Manager at MHI. She holds a Bachelor's degree in Psychology from Bard College at Simon's Rock, for which she wrote a thesis evaluating community-based trauma interventions as accessible forms of mental health care. She aspires to continue the work of her thesis professionally in the global mental health field. Apart from community-based mental health work, Saisha's interests include media analysis on issues of identity (race & ethnicity, gender, sexuality, ability, etc.). She has experience in both mental health and social justice efforts in college settings.
Shruti Chakravarty
Shruti Chakravarty is our Chief Advisor. Her areas of engagement include mental health, gender, sexuality, and human rights. With 15 years of experience in the non-profit sector as a mental health practitioner, researcher, trainer, and social worker, she is currently a PhD scholar at Tata Institute Of Social Sciences (TISS), Mumbai, and has an independent therapy practice.
Sonia Pereira
Sonia Pereira is the Programs Manager at Mariwala Health Initiative. She holds a Master's degree in Social Work from the University of Mumbai. She has over seven years of experience in the social sector and has specialised in program management, partner collaboration and support especially in the field of child rights, women's rights, education, child protection and early childhood care and development. She is passionate about women's rights, child rights and mental health.
Advisory Committee
Amalina Kohli Dave
Amalina Kohli Dave is a mental health activist, user-survivor, who has organised queer mental health discussion groups and co-hosted a series of workshops about mental health in theatre . She has also started support groups for people with chronic illness, including chronic pain and autoimmune illness. Her previous research includes studies on race and mental health access as well as queer persons experiences with cishet mental health professionals. While Amalina's day job is in rare book restoration, she has studied Gender and is inspired by a feminist disability rights approach and crip theory.
Dr Ketki Ranade
Dr Ketki Ranade graduated in psychology from Mumbai University, TISS and the National Institute of Mental Health and Neurosciences (NIMHANS), Bangalore. Ketki has worked for almost a decade as a mental health service provider, researcher and activist and has developed mental health service programs for marginalised communities. The areas of research include marginalisation and mental health, medicalisation of homosexuality, LGBTQ affirmative mental health services. Ketki has been member of the Expert Committee on Transgender Issues formed by the Ministry of Social Justice and Empowerment in 2013 and has been working on rights of transpersons, particularly health and mental health concerns.
Pramada Menon
Pramada Menon is a queer feminist activist who has been actively involved in the social justice and women's human rights sector in India and internationally for more than two decades. She is the Co-founder of CREA and worked there as Director Programs from 2000 till 2008. Prior to that she was with the Dastkar, an organization working for the promotion of crafts and crafts people, as Executive Director. Since 2008, she has been working as an independent consultant with a variety of organizations on issues of women's human rights, gender and sexuality, organizational change management and professional coaching.
Sonalini Mirchandani
Sonalini Mirchandani has several decades of experience in social sector communication. Her work in communications research, design, capacity building and implementation has spanned sectors including reproductive health, child rights, gender-based violence, governance, and others. Starting her career as a diplomat, she moved on to work in the private sector and subsequently in the social sector, and held positions including that of Vice President, Operations Research Group, and Country Director, Johns Hopkins University - Centre for Communication Programmes. She is the Founder CEO of The Communication Hub, and is a member of several advisory bodies including the Steering Committee of the Stigma Action Network, UNICEF's International Polio Communications Review Team, Advisory Council of Population Foundation of India, and SNEHA. Sonalini is an active member of the Mumbai Network of Palliative Care.