Psychosocial Support for the Riot-Affected: Factoring in Financial Security
A critique of the biomedical model of post-riot counselling services as being reductive, in divorcing mental health issues from the deeper social context
introduction
This article is a reflection on psychosocial support in the aftermath of the communal riots in Northeast Delhi in 2020, followed by the onset of the COVID-19 pandemic. It makes the case that financial aid is crucial to the post-riot rehabilitation response, for individuals whose mental health is already exacerbated by cycles of poverty. The restoration of livelihoods needs a rights-based approach, in which ideas of rehabilitation are co-designed, and built together, with those affected by the violence. The overall aim here is to shed light on how the psychosocial health of individuals, while undoubtedly made worse by a riot, is further exacerbated by structural stressors – such as minority religious position, and poverty – which must inform post-riot rehabilitation services.
The evidence for these assertions was generated through my fundraising efforts over a period of 18 months, to provide sustained support to two migrant families, whom I contacted while attempting to locate women with disabilities (WwD) at the Idgah Camp, Delhi. The marginalized position of WwD in India renders them particularly vulnerable.
context
To understand the impact of the communal riots in early February 2020 on persons with disabilities, I volunteered with the National Platform for the Rights of the Disabled (NPRD), an organization that advocates for policies to secure rights for the disabled. The first visit to the field enabled us (volunteers) to meet riot-affected families, and conduct needs assessment for WwD in the camp.
Visits to the camp revealed how funds and donations were organized. The camp itself resembled a bazaar where civil society organizations and pharma companies provided healthcare, temporary social security, rations, and cash. Access to these services happened through negotiations with the service providers, to convince whom each "riot victim" had to perform their trauma repeatedly. The camp saw new visitors daily – citizens-turned-saviours – who would frequently and casually question those living in the camps about their experiences, ignoring all ethical considerations around how such a conversation might affect the narrator, or be placed in the larger landscape where stories about trauma were ways to secure aid.
Within less than a month, due to the Covid-19 pandemic, the camp was evacuated, without sufficient notice being given. Families were asked to go back to the very homes that were no longer safe spaces. What had felt like a quick fix, meant to last only till everyone got enough assistance, turned into a never-ending story.
This piece sheds light on how a psychosocial response to a riot may be orchestrated through financial support, and long term needs-based engagement, even by a layperson.
questioning the ration kit
After a communal riot in which affected persons lose their livelihood and homes, providing dry rations to those affected is common relief practice. A ration drive is organized, for distributing packages containing fixed amounts of sugar, flour, rice, daal, salt, cooking oil, and so on. Such ration kits are not tailor-made to family size, or dietary practices. Often, the items are not of good quality, being the result of several cost cuts, and reflecting the view that the poor do not need quality food, and that rather than complaining, they should be grateful for whatever they are receiving. These kits cater to rehabilitation only in the short term, which is why they become a symbol erroneously suggesting that the post-traumatic impact will be short-lived, and life will magically return to how things were.
Through the fundraiser I organized, I overturned these defining tenets, so that the ration kit took into account varied circumstances. Firstly, it was based on the family's size, their nutritional needs, and dietary habits. For instance, for those with specific nutrition needs, buffalo milk was included instead of the much cheaper toned or double toned milk, as were fruits. Provision was made for medical tests and medication, according to health contingencies. Changes to the range of items each family needed were made without asking for justifications. This approach was based on a shift in understanding – that doing just the "basic minimum" does not work in the long run, and may please the provider more than it satisfies the receiver. Around the month of Eid, additional monetary support was given to the families so they could celebrate through traditional foods. Both families said that eating gosht helped them temporarily forget recent events.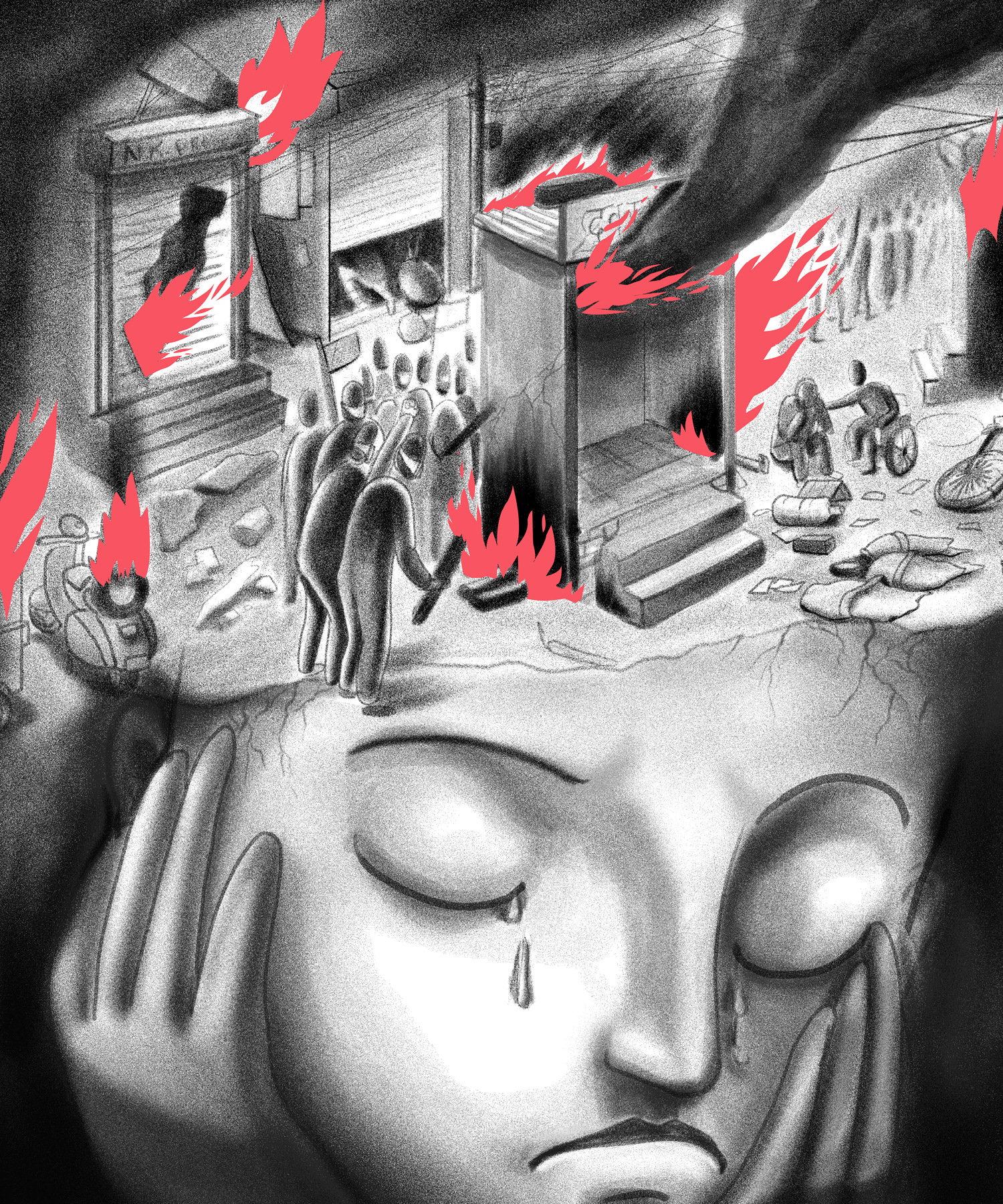 reimagining and reframing the psychosocial problem
While providing financial aid to these families in the initial months, I received many requests from counsellors who wanted to speak with "riot victims" and help them with post-traumatic stress. From my interactions with the two women and their families, it was apparent they did not wish to speak to anybody about the incidents that had made them homeless. Not only was the notion of talking to a counsellor alien to them, it seemed to add to their present tension. At first, I let biomedical services reach out to them, but soon realized that not only were these services isolating the mental health issues from the underlying social context, they were carried out insensitively.
A few agencies had begun providing tele-counselling services at the start of the pandemic. In one of the two families I was working with, a male counsellor reached out to one of the women, for whom speaking to a stranger, especially male, felt culturally inappropriate. Besides, the families were not helped to understand what purpose might be achieved by recalling traumatic personal experiences. A further issue with tele-counselling was that the counsellor either changed between sessions, or didn't recollect details correctly. Thus free therapy for poor people meant poor services, during which the interactions may have caused more scarring, instead of being helpful.
Looking at these concerns from a psychosocial lens means acknowledging that psychological relief for these families was intrinsically linked to financial security – monetary relief, as in repayment of debts which trapped them in the cycle of poverty, was all that seemed to ease their tension, enabling them to live with some degree of comfort in the middle of the deadly pandemic. Factories had shut down; there was no work. Having enough gas to cook, enough flour, enough rent money, not only helped them survive but also saved them from shame in the eyes of landlords, neighbours, relatives. While locating post-riot mental health crises, financial security is an extremely important factor in sketching different pathways to recovery.
recommendations for blended psychosocial services
In the short term, psychosocial aid to the marginalized and the poor must layer their services with better customized financial support that sustains families, giving them hope and the will to live
In the long term, if organizations involved in rehabilitation for marginalized communities offered training, education and employment support, the root causes of poverty and its impact on mental health would be met with empowerment and sustainability
Training local people and community leaders in psychosocial first aid to identify immediate needs and stressors, as well as enabling a local peer network for the sharing of problems, would prove beneficial
___________________________________________________________________________
References
(1) Here I will only be considering poverty, and not minority religion status, which would require a separate article.
(2) One out of the two women who benefited from this fundraiser had to be carried by three of her brothers, in the form of a human palanquin.
(3) Volunteers are trained to use a Needs Assessment Form, which was developed by NPRD and its collaborator to understand the needs of people who were either already disabled, or had become disabled through injuries in the riots. The form provides a sense of the family's socioeconomic status, the damages incurred to property, as well as access to a disability certificate as well as to rations.
(4) We got in touch with Danish, a local social worker who had been involved in the provision of food and other basic amenities immediately after the riots; he put us in touch with families of people with disabilities.
(5) The commonly used term to refer to anyone who suffered during the riots.
(6) I write "saviours" because many persons present at the Idgah camp came there to take photos of what they saw, to put up on their social media profiles. Some part of this "being there" showcases a form of "saviour complex" that has become a part of the fabric of showing oneself to be "woke" and caring.
(7) While I do not see any problem with the bartering of a story of trauma for a service, there was something about the excess of such interactions that not only made me queasy but also made me reflect on what it takes to get basic services.
(8) I have not once in those 18 months asked families to narrate "what happened that day" – because all the other signifiers around why they were seeking my support made the happenings evident. I was also on my guard against turning into a makeshift counsellor, which has become a trend of sorts on social media where people request anybody to open up to them if they are going through a tough time psychologically – something that I find dangerous.
(9) I do understand that many times those who arrange rations are trying their best to fix something instead of nothing, but I am saying that this is not enough. Asking for more tags the recipients as selfish, eroding the qualifiers of their poverty, helplessness and "riot victim" status. A poor person thus becomes synonymous with someone who must be content with whatever she receives. Being quiet and grateful is a part of the package.
(10) Ethnographic accounts on low income households' expenditure on food suggest rocketing expenses going into Out of Pocket Expenditure(OoPE), increasing the cost of living in hazardous socio-economic conditions. The riot also led to many somatic conditions such as fever, sleeplessness and weakness, for which individuals required medication.
(11) Tension here is different from the English word "tension" as it finds its way into Hindi. It connotes any kind of stress, short- or long-term. "Tension ho raha hai" ('I/they have tension' or 'Tension is happening') is colloquially very common.
(12) This may be read alongside the statistics wherein only 1 psychiatrist is available for a population of 100,000 people in LMICs like India. Such instances only resonate as the lived experience of such a statistic.
"Free therapy for poor people meant poor services, during which the interactions may have caused more scarring, instead of being helpful."