#BridgeThe CareGap
An advocacy-based campaign to ensure the implementation of India's Mental Health Care Act. Bridge the Care Gap's goal was goal was simple enough: to have a mental health promise included in every major political party's manifesto.
anti-stigma campaigns
For years, mental health campaigns have focused on destigmatization. There have been anti-stigma campaigns the world over since 1996. The British 'Time to Change' campaign used best practices on a large scale, with clear evaluation protocols. "Disappointingly, there was no improvement in knowledge or behaviour among the general public, nor in user reports of discrimination by mental health professionals. A few indicators showed a negative change over the study period, ironically including increased discrimination reported by those with most exposure to the Time to Change program." Research confirms that change resulting from such campaigns is slow: hit or miss; often unsuccessful – especially when no critical shift takes place in attitudes.
There have also been concerns about the ethics of raising mental health awareness when there are not enough resources or services to deal with any increased demand. While anti-stigma campaigns encourage disclosure, and seem to suggest that if only attitudes regarding mental health were to change, more people would come forward to use mental health services, they don't simultaneously lobby for adequate, accessible, affordable, quality mental health services. Besides, such campaigns tend to focus on the individual, and to be framed around personal responsibility, instead of addressing underlying factors like structural violence or other sources of psychosocial distress. An article published in the 'Israeli Journal of Psychiatry and Related Sciences' asserts that not only is the biomedical approach towards mental illness that dominates current anti-stigma campaigns ineffective, it actually tends to increase stigma; conversely, communication based on psychosocial explanations of mental health has been found to be effective in reducing stigma. Campaigns also need to address mental health-related rights violations, lack of access to quality care, low government budgetary allocations – and the much larger barriers of social and economic inequality and discrimination.
a campaign and its building blocks
The challenge before us, then, was to effect a campaign paradigm shift while avoiding the traps of previous anti-stigma campaigns. In light of India's rights-based Mental Health Care Act (2017), as well as the upcoming general elections, we decided to advocate for the implementation of, and adequate budgets for, existing government provisions for mental health care. We wanted to spur political will towards acting for mental health. And so were born the #BridgeTheCareGap hashtag-cum-slogan, and campaign. "Care gap" reflects a conscious departure from the more usually evoked "treatment gap" with its biomedical underpinnings. We aimed to build meaning into the phrase "care gap" by focusing on the implementation of laws and policies meant to safeguard the rights of persons living with mental health issues, to provide accessible and affordable quality mental health services, and to address the social and economic disparities that compound psychosocial distress.
putting mental health on political party manifestos
This advocacy-based campaign to ensure the implementation of India's Mental Health Care Act was conceived and carried out by a core group of mental health organizations including Mariwala Health Initiative, and individual activists. As national political parties were working on their election manifestos at the time, campaign coalition members decided to use the opportunity to meet the various political representatives, explain our demands, and provide inputs for use in manifestos. Our goal was simple enough: to have a mental health promise included in every major political party's manifesto. Historically, mental health had never found a place on any manifesto of any Indian political party – and so, we were really asking for a fundamental shift in perspective. We were asking that politicians, and the public at large, recognize the importance of mental health. An arduous road lay ahead, of large-scale sensitization.
reframing our communication
Thus began our work of creating effective communication material: simple to comprehend, and accurate; prioritizing the voices of those with lived experience; foregrounding the structural and systemic issues germane to the rights of persons with psychosocial disabilities. One of our main pivots comprised videos highlighting the challenges faced by a range of users of mental health services, caregivers, and other stakeholders. These videos centered marginalized voices, such as the experiences of structural violence in queer and trans lives; included testimonies from three mental health professionals with relevant lived experiences; and suggested multiple pathways towards resilience for persons living with anxiety, depression, schizophrenia, and bipolar disorder. Instead of talking about "cures" or "help", the videos shared stories of agency, and of how people had accessed psychosocial support through different kinds of therapy as well as peer support networks. Through these videos, we wanted to reframe the idea of mental health – locating it in the psychosocial realm, and laying emphasis on the rights and agency of persons with mental illness. Given the dearth of mental health-related materials in languages other than English, we ensured that our videos included other languages such as Marathi, Bengali, Tamil. Our infographics, informed by the same approach, spoke of employment, domestic violence, and structural aspects that gravely impact mental health.
"THE BIOMEDICAL APPROACH THAT DOMINATES CURRENT ANTI-STIGMA CAMPAIGNS IS INEFFECTIVE"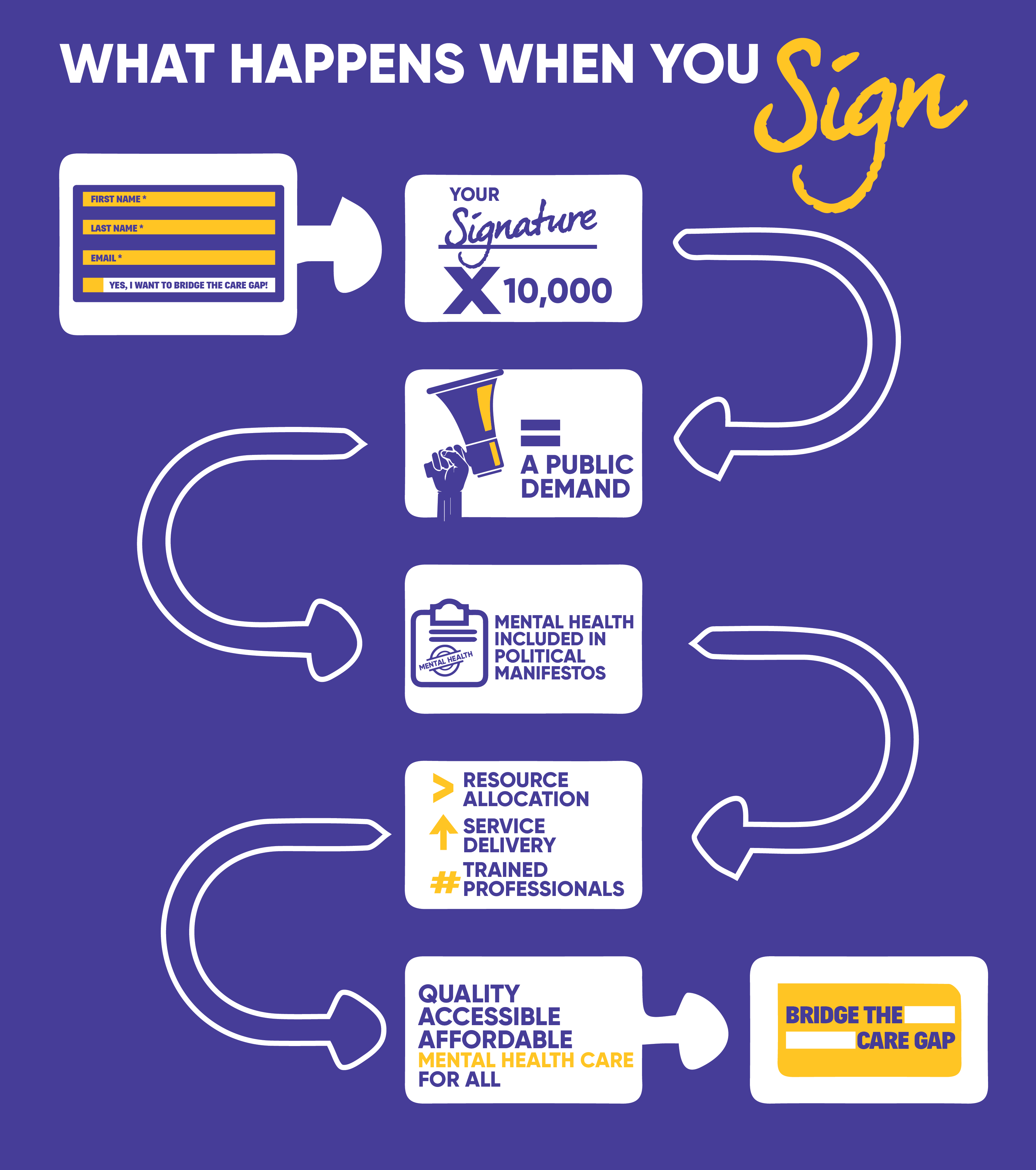 leveraging online media
We launched an online petition that people were invited to sign, in order to convey to political representatives that action on mental health was important to win signatories' votes. Over 11,000 people from across the country signed the petition. We sent out material via WhatsApp, stormed Twitter and got #BridgeTheCareGap to trend, and ensured that our videos, Facebook posts, and tweets were shared and reshared – till the mainstream media took notice. Much to our delight, every major print and online media outlet in the country covered the campaign. Journalists dubbed it a "guerrilla campaign", and explained the meaning of the care gap in mental health as well as the Mental Health Care Act's provisions – thus expanding the knowledge base we had worked to create.
collaborating widely
Approaching mental health, as we do, as an issue of development as well as intersectoral and intersectional, one of our aims was to collaborate widely across development-related sectors. We shared our initial plans with a number of grassroots groups, and multiple civil society platforms, inviting suggestions on how to mobilize for mental health action on the ground, particularly with regard to providing services and upholding human rights. The nation-wide #BridgeTheCareGap campaign received support from many other mental health organizations, as well as from groups working on child rights, women's rights, law and policy, LGBTQIA+ concerns, human rights, and livelihood issues. Approximately 55 organizations endorsed the campaign petition, and supported the campaign by publicizing our materials or sharing details with the communities within which they worked. Some supporters leveraged their own networks to get us meetings in political offices. It was through such collaborative efforts that #BridgeTheCareGap made history, with mental health finding a mention in the manifestos of two political parties.
next steps
The next round of the campaign envisions monitoring the implementation of legal provisions in mental health care, and creating "report cards" to flag shortfalls, provide accessible and affordable psychosocial services and support, and focusing on both accountability and more accurate local knowledge of the mental health ecosystem in India. ¤